Somali Tea, Made Simple…
Our traditional Somali tea spices are expertly blended from a recipe handed down from generation to generation

Using quality whole spices and a delicious secret ingredient, just one little teaspoon adds life, colour and flavour to your standard cuppa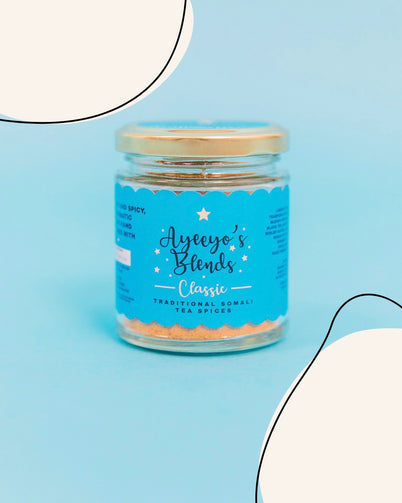 Featured product
Ayeeyo's Blends
Regular price

Sale price

£4.99
Tax included.
Indulge in the experience of Ayeeyo's Blends traditional Somali tea spices - the perfect way to elevate tea time.
Each sip is a rich with warming whole spices such as cinnamon, cardamom and ginger - all hand blended with lots of love to create an irresistible aroma that delights the senses.
To get the taste of authentic somali shaah at home, simply brew one teaspoon of Ayeeyo's Blends spices with black tea and freshly boiled water. Add milk, sugar or honey as desired then sit back and enjoy. 
Featured product
Eid Gift Box
Regular price

Sale price

£20.99
Tax included.
Celebrate Eid in style with our gift box featuring Ayeeyo's Blends traditional Somali tea spices to delight any shaah lover.
The salted caramel chocolate truffles are the perfect indulgence for those with a sweet tooth, while the luxurious prayer beads and scented pillar candle add an aura of peace and tranquility. We've also included a navy bound deluxe copy of Fortress of the Muslim which contains a collection of essential duas to uplift the soul. Lasty, the cedar, patchouli and cardamom scented incense sticks provide a relaxing and pleasant fragrance.
Eid is a time of joy, generosity and gift giving - and this curated box is the perfect way to show your loved ones how much you care, by gifting them the ultimate Ayeeyo's Blends experience.
To add a gift note to your box please email hello@ayeeyosblends.com with your order number and personalised message.